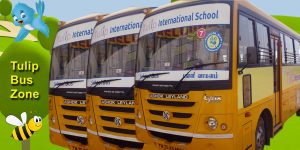 In order to strengthen the security system and ensure safety for children, Tulip International School has made it compulsory for school buses to have the Global Positioning System (GPS) installed in them, which will track the location of the bus, audit pick up and drop off times.
We have partnered with GPS and implemented an unique GPS based school bus tracking solution in all our school buses to improve all our children's safety and parent's convenience during the boarding and alighting from the buses. Please refer the enclosed brochure for further details. The following features have been extended to all parents whose wards are using the school transportation.
SMS Alerts
The following SMS alerts will be sent to the Registered Mobile number provided to us in our school records.
GPS will send proximity SMS alert when the bus enters your locality as information
GPS will send SMS alert once the bus reaches the school in the morning as well when the bus starts from the school in the evening
School will notify Route / Bus specific information (like Alternate Bus information, change in timing etc.) by GPS SMS to the parents
SMS message delivery is subject to the mobile network coverage or congestion.